OUR GOAL IS TO HELP YOU BRING SOME JOY
AS A TEACHER, ARE YOU DEALING WITH
Shy/ unconfident students?
Bullying in your classroom?
Inattentive/unmotivated students?
The lack of teamwork & inclusion among kids?
THEN OUR BOX CAN BE YOUR SOLUTION
Improve coordination and self-confidence

Help kids stay active & reduce screen time

Promote inclusion & build leadership

Cultivate creativity through play-based learning
Build leadership & self-confidence
Increase classroom alertness
Promote inclusion & curb bullying
Reduce anxiety, depression & confusion
Hosting activities for students is easy with a wide variety of fun, educational games available at your finger tips
Allow Students To Play Independently
The active8 box's kid-friendly instructions will enable kids to play with minimum teachers' guidance,
Improve Students' Performance
Physical exercises positively correlate with kids' academic performance and classroom alertness
Make Your Job A Bit Easier
Allow teachers to give their students a good learning experience with ease
Promote Inclusion Among Kids
Get kids interacting and being social, while maintaining social distancing
Buy a separate seasonal box or subscribe to us and get a box at the beginning of every season
Get a box of cool equipment curated to each season. Delivered within 7-10 days
Our active8 box will help build your classroom dynamics through fun and educational games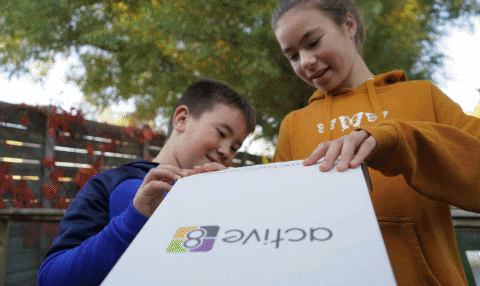 *POSSIBLE SIDE-EFFECTS: huge smiles on their faces, rosy red cheeks, strong & healthy body
" It feels good when we are outside
with our yellow shirts and we can see the students racing to us to play a game.
Thank you for coming to
teach us games for the little kids on the playground and in the gym. We are so "greatful" to you. Thank
you! "
DON'T LET THESE CRAZY TIMES TAKE AWAY ONE OF THE MOST IMPORTANT PART OF BEING A KID -
POWER OF PLAY IN YOUR CLASSROOM
40+ days challenge calendar with new exciting socially distancing activities to play in your classroom
8 game cards that focus on core games using different pieces of equipment in the box
Carefully curated seasonal sport equipment to keep students engaged in active and healthy play
games and challenges ideas to host fun activities daily for classes of up to 30 students