EMPOWER YOUTH THROUGH PLAY
Have weeks worth of fun activities available for youth?
Improve group dynamics for kids
Get kids off electronic devices
Help kids break the ice and start playing together?
See the smile on kids' faces?
Keep kids healthy and active throughout the day?
THEN OUR BOX IS WHAT YOU NEED
Improve coordination and self-confidence

Help kids stay active & reduce screen time

Promote inclusion & build leadership

Cultivate creativity through play-based learning
Build leadership & self-confidence
Keep kids engaged and active
Promote inclusion through teambuilding activities
Reduce anxiety, depression & confusion
Help Kids Build Trust And Form Friendship
Playing together offer kids the opportunity to develop meaningful bonds and relationships that will last for a lifetime
Allow Kids To Play Independently
The active8 box's kid-friendly instructions will enable kids to play with minimum adults' guidance
Help Instill Leadership and Self-Confidence In Kids
active8 games allow for children-led play, cultivating kids' self-confidence and leadership skills
Help Kids Build Social Skills
The interactions from group playing gives kids the frame of reference about social norms and acceptable behaviors
Get a box of cool equipment curated to each season.
Delivered within 7-10 days
build your group dynamics through fun and educational games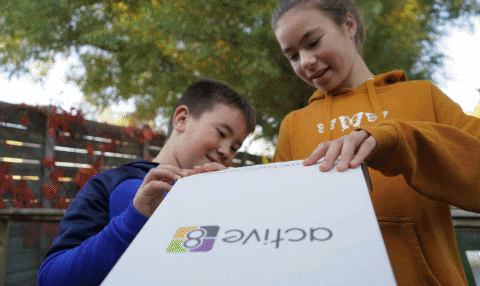 " It feels good when we are outside
with our yellow shirts and we can see the students racing to us to play a game.
Thank you for coming to
teach us games for the little kids on the playground and in the gym. We are so "greatful" to you. Thank
you! "
DON'T LET THESE CRAZY TIMES TAKE AWAY ONE OF THE MOST IMPORTANT PART OF BEING A KID -
POWER OF PLAY IN YOUR GROUP
40+ days challenge calendar with new exciting socially distancing activities
8 game cards that focus on core games using different pieces of equipment in the box
Carefully curated seasonal sport equipment to keep children engaged in active and healthy play
games and challenges ideas to host fun activities daily for up to 30 students at a time