WE WANT TO HELP YOUR KIDS
DO YOU WAKE UP IN THE MIDDLE OF THE NIGHT WORRIED THAT
your kids are spending way too much time on electronic devices?
your kids are not getting enough social interaction?
you can not focus on work while watching your kids?
your kids are not getting enough physical exercise?
OUR BOX CAN BE YOUR SOLUTION
Improve coordination and self-confidence

Help kids stay active & reduce screen time

Promote inclusion & build leadership

Cultivate creativity through play-based learning
help kids become better athletes
reduce screen time & improve emotional intelligence
Activities kids can play together
Boost their creativity & put a smile on their faces
A wide variety of fun games available at your finger tips
Keep Your Kids Healthy And Active
Fun daily challenges will keep your kids engaged and moving
Allow Your Kids To Play By Themselves
The active8 box comes with kid-friendly instructions, allowing kids to play with minimum adult guidance so you can get more things done
As a non-profit organization, we are on a mission to empower the future generations by teaching youth positive building blocks for their future in a fun, safe and educational environment.
By purchasing our active8 boxes, you are funding Canadian youth as all proceeds from our active8 box sales will flow back into our operation, allowing us to provide free recess programming for schools across Canada.

Since founded in 2008, Recess Guardians has impacted hundreds of thousands of youth across Canada. With our active8 program, we have an opportunity to reach more youth than ever.
Promote Inclusion Among Kids
Get kids interacting and being social, while maintaining social distancing
Get a box of cool equipment curated to each season.
Delivered within 7-10 business days
keep your kids entertained and active throughout the day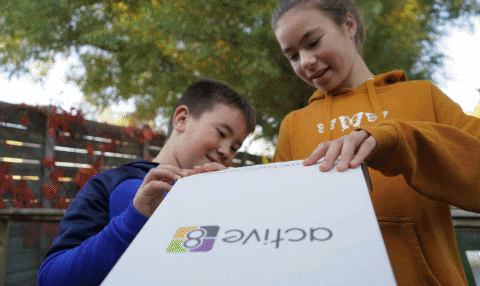 POSSIBLE SIDE-EFFECTS: huge smiles on their faces, rosy red cheeks, strong & healthy body
" The change was incredible, it positively impacted his entire feelings towards school .

A huge THANK YOU from us, your program has been great for him and our family! You have a champion in me "
DON'T LET THESE CRAZY TIMES TAKE AWAY ONE OF THE MOST IMPORTANT PART OF BEING A KID -
Playtime is in short supply for most youth today. The impact this can have on a child's development can be more severe than most parents realize.
JUST LET KIDS FIGURE IT OUT
We all want to imagine that our children will grow up to be wise and kind adults. To do this, it is so important to empower them and give them the opportunity to learn from their mistakes.
WINNING AND LOSING FOR KIDS
Winning and losing can be great opportunities for teaching youth how to be both gracious and resilient. This can serve them well in the future as they grow and learn.
POWER OF PLAY IN YOUR HOME
With dozens of readily available games and challenges, hosting fun and educational activities for your kids has never been easier.
40+ day challenge calendar with new exciting socially distancing activities
8 game cards that focus on core games using different pieces of equipment in the box
Carefully curated seasonal sport equipment to keep children engaged in active and healthy play
The active8 home box could be used to host fun games for up to 5 family members at a time